About Us/FAQ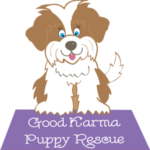 Director: Charmaine Wichmann
Good Karma is a 501(c)(3) foster-based puppy rescue located in White Lake, MI established to provide animals loving, forever homes. We exist solely through adoption fees paid by our incredible supporters. For further information on Good Karma please contact Good Karma Rescue
We are not a shelter, and do not have a physical location. Instead, our rescued animals all live with pre-screened fosters. We do this in order to keep litters of puppies together (in many cases with their mother) to ensure their health and socialization prior to being placed up for adoption. This also allows for the puppies to have constant monitoring, love and attention.
Frequently Asked Questions
What is the process for adopting a rescue from Good Karma?
A:  We have a comprehensive adoption screening process that includes a detailed application, including veterinary and personal references and a home visit, when possible. Start by completing an adoption application here.
After we receive your application and if we feel you may be a good fit for the dog, we will get in touch with you.
Good Karma holds adoption events each week for prospective adopters to meet the available puppies and possibly adopt.
Please note, if you are interested in a puppy online, please fill out an application here. If you applied to adopt previously but missed out on a puppy, please contact us immediately here, with the date of your approved application and the animal that interests you.
Is there an adoption fee? What is it?
A:  Yes, ALL dogs have an adoption fee that is non-negotiable and not refundable. We will require the adoption fee be paid (by cash or credit) prior to or when we transfer the dog to the new family. This fee helps with the expenses related to the care of ALL the dogs in our program and is not directly tied to expenses incurred for that particular dog. Adoption fees allow Good Karma to continue doing our life-saving work.
I just want to help give a homeless dog a new life but I was not chosen as the adoptive home. Why?
A:  Sometimes people are disappointed in adoption outcomes, especially when many people are interested in a particular dog. Please try not to take things personally if you are not chosen for a dog. Our fosters consider what type of family and home environment will be most suitable for each individual dog and work hard to find the best fit. The right dog for you may be just around the corner and we deeply appreciate your interest in our rescued animals.
How do I know which dogs are available for adoption?
A:  Check out our available dogs here.
We often place dogs with people who have an adoption application on file. In those cases, the dogs would not ever have been listed for adoption. We encourage you to fill out an adoption application if you see an animal that interests you. If the animal is online, it is available for adoption.
---
A special thank you to Chris Ferdinandi from Go Make Things whose fantastic WordPress Petfinder theme is the foundation for our user-friendly multi-device/platform site.